In this May month/2006, our beloved Honey would complete 5 years, but it behind dead 3 months in a deep sleep.

The word homesickness is small excessively to describe the pain inside of my chest.

This creature of Light taught the sensible Real to me of the love.

She taught to me that to love is not necessary words, only necessary to be close.

That to love, we do not need touch, only affection.

That to love, it does not import the height, the size, to the color, or the race, only imports the being.

That to love, she is only necessary to open the heart to join itself to another heart, to feel what another one feels, to think as the other thinks.
To love it does not matter if we are human or animal, it matters how much we can share of the love.

I wait that of some form my immense love for the Honey, can transpose the dimensions and that my words if transform into a breeze warm to reach the perpetual flight of the Honey

For Honey I made a homage in this page, which we want to share with all the friends.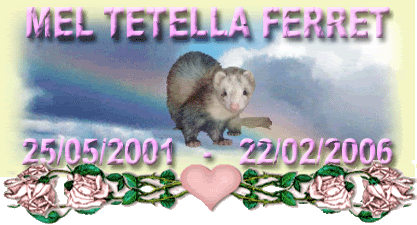 I Miss You, in my Life

As I sit here and I wonder why
Images of you keep passing by my sight
Remembering times when you were my children
When we were sure the happy times would never



Honey, I miss you, in my life
Remember all our jokes
You were never far from me
Someone who was there in all my many times



Honey, I miss you, in my life
You had a beauty that all could see


And a look that melted me
And a so deep sleep, that I always it would disturb
We can't forget the many times that you kissed me
When others thought that you were not children


Honey, I miss you, in my life
Now you have gone on to Heaven's Door
Could it be you think they Love you more
They accepted you on bended knee
And give you Love so unconditionally



Honey, I miss you, in my life
I heard that you have found it all
Your in the place where you can relax now
Where the pain has gone somewhere else
And Angels sit right by your side
Where God explains things like the changing tides



Honey, I miss you, in my life
I never thought it would hurt so bad
Or to what extent I would feel so sad
Will I ever heal deep inside
Without you standing at my side



Honey, I miss you, in my life
I will miss you till the day I die
And I'll keep my promise to be alright
It will be the hardest fight of my life
But I will make sure that I honor you



Honey, I miss you, in my life
I will want still say him some very simple things
Like make new Friends and Share
And never again give the back to any another pet that of you approach




Honey, I miss you, in my life
Some day you will guide me to
This land that is so loved by you
Where each day is a pleasant one
And where God's Love is number one

Honey, I miss you, in my life




Night sweet Angel mine
Most precious gift of my lifetime
Wrapped in swaddle made from love
Blessed by Guardian Angel's and our God above
Hold my hand little Cherub child
Trust Mommy in her show of love gone wild
Don't fear your first faltering steps
For your kept eternally within the dance of Angels
Smile for me sweet innocent mine
And Heaven shall glow for all of time
Rainbows color your world dear one
And Angels so joyous draw your name upon the Sun
Let your eyes drift shut my sweet princess
For I will hold you till you're in the land of dreams
Take with you this Mothers wish
Of gentle rest filled with fresh springtime's breath
Gaze into my eye's my Princess delight
Let Mommy see your soul so bright>Angel's please guard over my sweet princess in the heaven
Walk in his shadow, bask in the light
Give him love to grow upon
Pick him up when he falls down
Mommy loves you Honey
And my tears of loss still continue it fall
I will say a prayer to each night for you myself candy Honey
In the hope of always we will be united in our dreams
Amen
It dedicated to my daughter Honey.
A remembrance of the love and that I became myself its mother.
And eternally the feelings that will lead in my heart!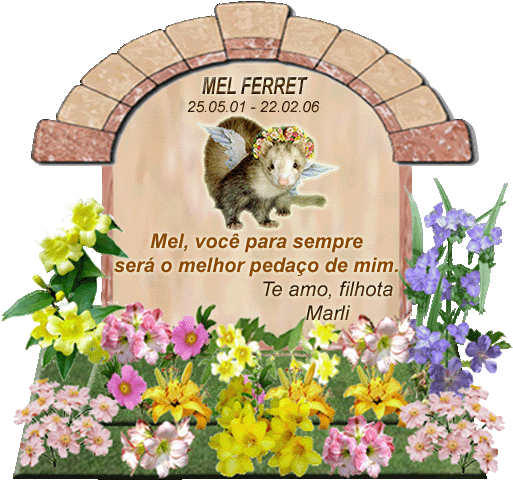 Vídeo 1 - Xote com Mel -Vídeo 2 - Mel Dodói -Vídeo 3 - Sem Mel
Outros Vídeos com Mel
Mel no site em Francês da amiga Yukka-
Mel na Rainbow Bridge do Grupo Ferret -Inglês